Original Series
The original Hydromaster Series 2 and Series 3 outboard propulsion unit, available in a power range of 80-260 hp. Treasured the world over for its mechanical design, ease of installation, operation and maintenance. All the reasons we needed to keep the original design unchanged.
The Original HYDROMASTER
80 – 260 hp
Long tested and proven design, developed for military purposes
Fits any engine
Compact and fully mechanical
Easy to install
Easy to service
Easy to maintain
Completely self contained
Radiator cooled engine
No steady bracket
Auto kick-up
Suits remote locations, rugged and shallow water conditions
LOCAL or REMOTE control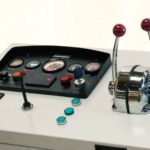 Remote Control
Remote control console with morse controller for engine speed control and joystick for steering, comes with multi-pin connector cables, connected in minutes.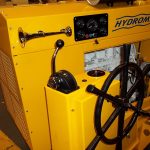 Local Control
In addition to remote Non Follow Up and Follow Up Control systems the units are available with local hydraulic power steering control.